The widest selection of cutting tools
Welcome to the Szerszám Technika Kft. website. We are a 100% Hungarian-owned company with a 15-year history of serving satisfied partners.
Our reputation is supported by the fact that we have been collaborating with a substantial portion of our customers and suppliers for over a decade. Among our team members, there are individuals who have been an integral part of the company since its inception.
We are very pleased that our company received the Dun & Bradstreet Certificate, for which only the financially stable and elite enterprises are entitled in Hungary.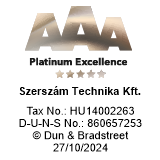 Exclusive domestic manufacturer's representative
We exclusively represent several global brands in Hungary, and our experiences with their products have been extremely positive. An increasing number of companies are using them with great confidence and satisfaction. In addition to our products, we also provide exceptional expert assistance and technical support.
In addition to each product, we also provide service and a reliable background. We not only sell a product, but offer a solution to your tasks and problems.
In addition to our products, we provide outstanding expert assistance and technical support. Our engineers find the most favorable tooling and technology for your cutting challenges.
Our goal is to become strategic partners of companies that want to increase their competitiveness through human relations. Our team is dedicated to your disposal.